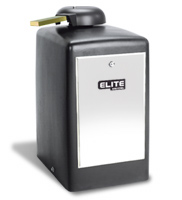 The CSW-200-UL™ is The most popular of all swing
gate operating systems in the country. It is designed
with a "non-scissor action" arm that will greatly reduce
the chance of injury. This unit can handle gates up to
18' in length at 75 cycle per hour and is designed for
high traffic applications such as heavily accessed
gated communities and commercial buildings.
The CSW-200-UL™ is protected by a 1/4" thick,
unbreakable polyethylene plastic cover for long life and
lasting protection. This operator has proven to be one
of the most reliable swing gate operators on the market
for over a decade.
REVERSING SENSOR

The digital current sensor continuously monitors the motor current. It
can be set for both the opening and closing cycles. If the gate is
closing and hits a vehicle, the sensor detects the increased load on
the motor and reverses. If the gate is opening and hits a vehicle, it
stops and reverses 4 to 6 inches. The sensor is smart enough to
operate on off-level installations and not to react to wind resistance.
NON-SCISSOR ACTION ARM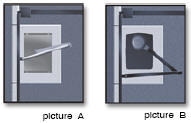 Most swing gate operator arms will cross and produce a dangerous "scissor"
action while opening the gate to a 90°opening, as shown in picture "A". We
designed our CSW-200™ operator arms to not cross, eliminating the scissor
action as shown in picture "B". This feature reduces the risk of injury from
the gate operator arm. the loop.