The BA-200 is used to monitor or control access to Gated Communities, Private Parking Lots, Schools, Universities, Hospitals, Airports, Toll Bridges, etc. It reads the barcode decals placed on the side windows of vehicles and signals the gate to open. Vehicles without a valid decal can be denied entrance. The BA-200 can read the decals from 6 ft. away and on a vehicle moving up to 25mph.
The BA-200 is especially useful for unguarded access gates. It allows residents or employees quicker access to the facility, while visitors go to a manned guard post. By restricting guests to a particular gate, it also allows the guard to focus on the visitors, thereby increasing security.
The BA-200 was designed to withstand harsh outdoor conditions and to operate in any kind of weather. The reader has a standard Wiegand 26-bit output that can be connected to an access control panel, and an RS232 interface that can be connected to a computer. It can also operate as a stand alone system.
Onboard diagnostics include an internal transaction log that displays the last 2000 vehicle ID numbers read by the unit along with the time and date that they passed through. In addition, internal temperatures and other diagnostic information can be displayed from the RS232 serial port.
The Secura Key TOUCH CARD® Reader is designed to integrate into existing access control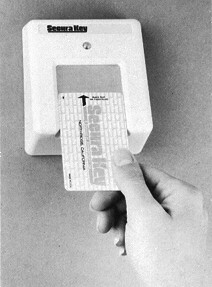 systems. Models SK-034 and SK-029 read Secura Key cards. Models SK-028, SK-038 and SK-040 allow many customers to retain their existing Barium Ferrite cards. Output can be factory configured to meet virtually all user specifications. The patented slotless TOUCH CARD® Reader is protected from tampering and hostile environments. The unit is available in surface mount, flush mount, and metal surface mount housings. To order, specify: sk- xxx - y - z - mm - nn (xxx=model number, y=output type, Z=LED control, mm=housing type, nn=data format number